Does Cassirer's play feel very different to Fagles' text? And what does this mean for how we think about translation?
What should ancient drama look like? Are there visual cues in Socrates' text? What inspires a modern artist working with this material?
How do you record a play remotely, and how did we overcome the challenges of putting it back together?
In May, we announced that work was underway to create an audio version of Cassirer's Oedipus at Colonus script. As a plan hatched in lock-down, all lines were recorded remotely, with a majority of cast members re-cast from a postponed local production of the same Sophocles play (albeit they had been preparing Robert Fagles' translation).
The near-Sisyphean labour of knitting together the recorded lines is now complete, and we are delighted to announce that the results will appear as a ten-part series, among the podcasts at this year's University of Sheffield Festival of the Mind.
New artwork was specially commissioned for the occasion, courtesy of Sheffield-based creative designer Rachael McNiven of Seventy Seven Creations.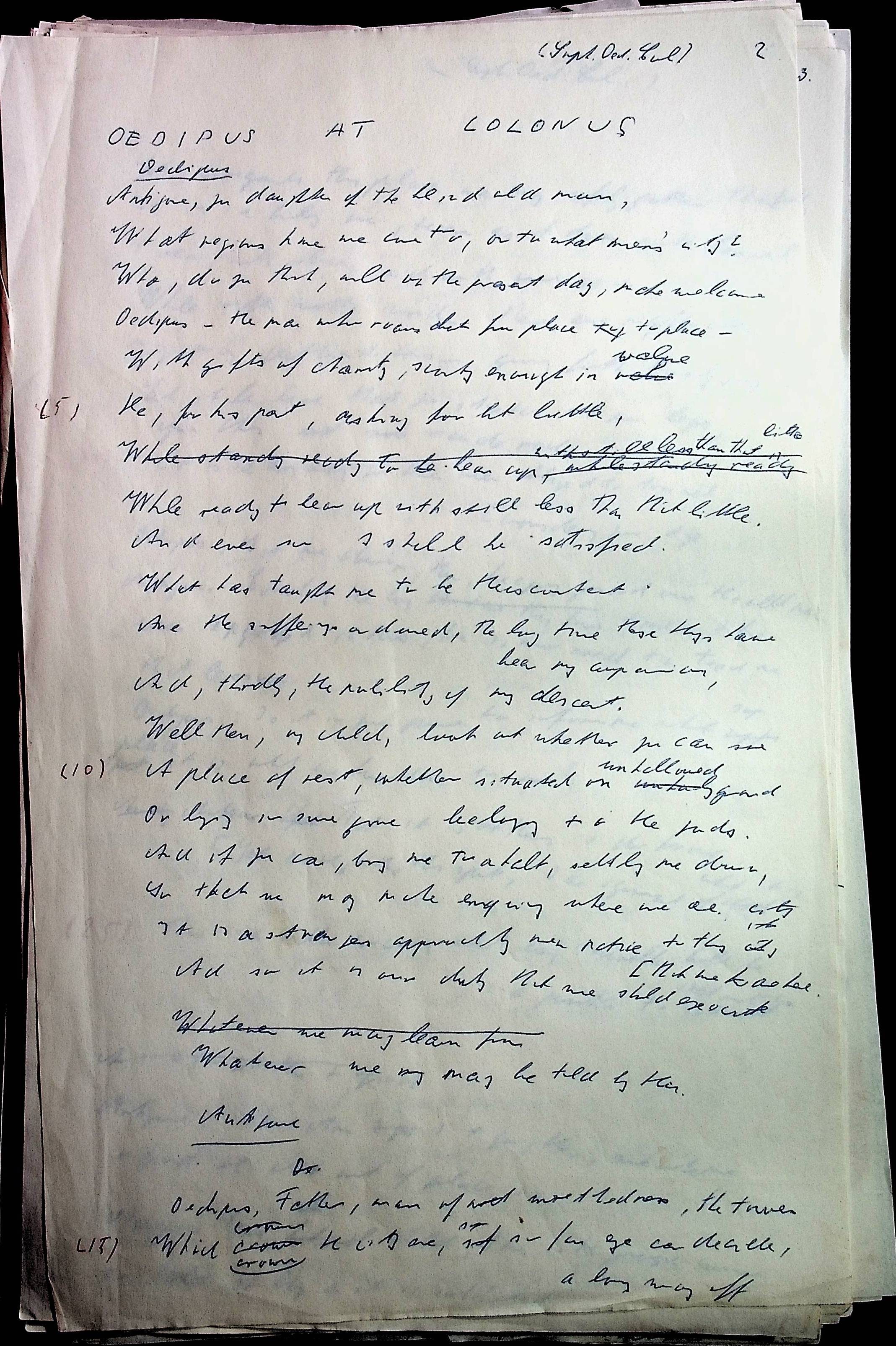 Detail from Cassirer's manuscript translation of Sophocles' Oedipus at Colonus. Sheffield Cassirer Collection 060.
The header image is one from a series of 10 illustrations produced for the Cassirer Collection by Rachael McNiven of Seventy Seven Creations. You may reproduce it freely for non-commercial purposes, provided you give credit to the Cassirer Collection and the artist.
Oedipus at colonus &
the festival of the mind
Several cast members will join Rachael and the University team behind this production for a discussion of the text, process, and product as part of the Festival live stream. Questions can be submitted in advance.
Tune in on Thursday 24th September at 4:15pm to hear the discussion live. More information about this will be added here when the Festival opens on Thursday 17th September.

A recording of the discussion will be available on this website shortly afterwards. The complete audio will also be incorporated into the online Cassirer Collection, available free to all listeners.