Some aspects of St Paul's Personality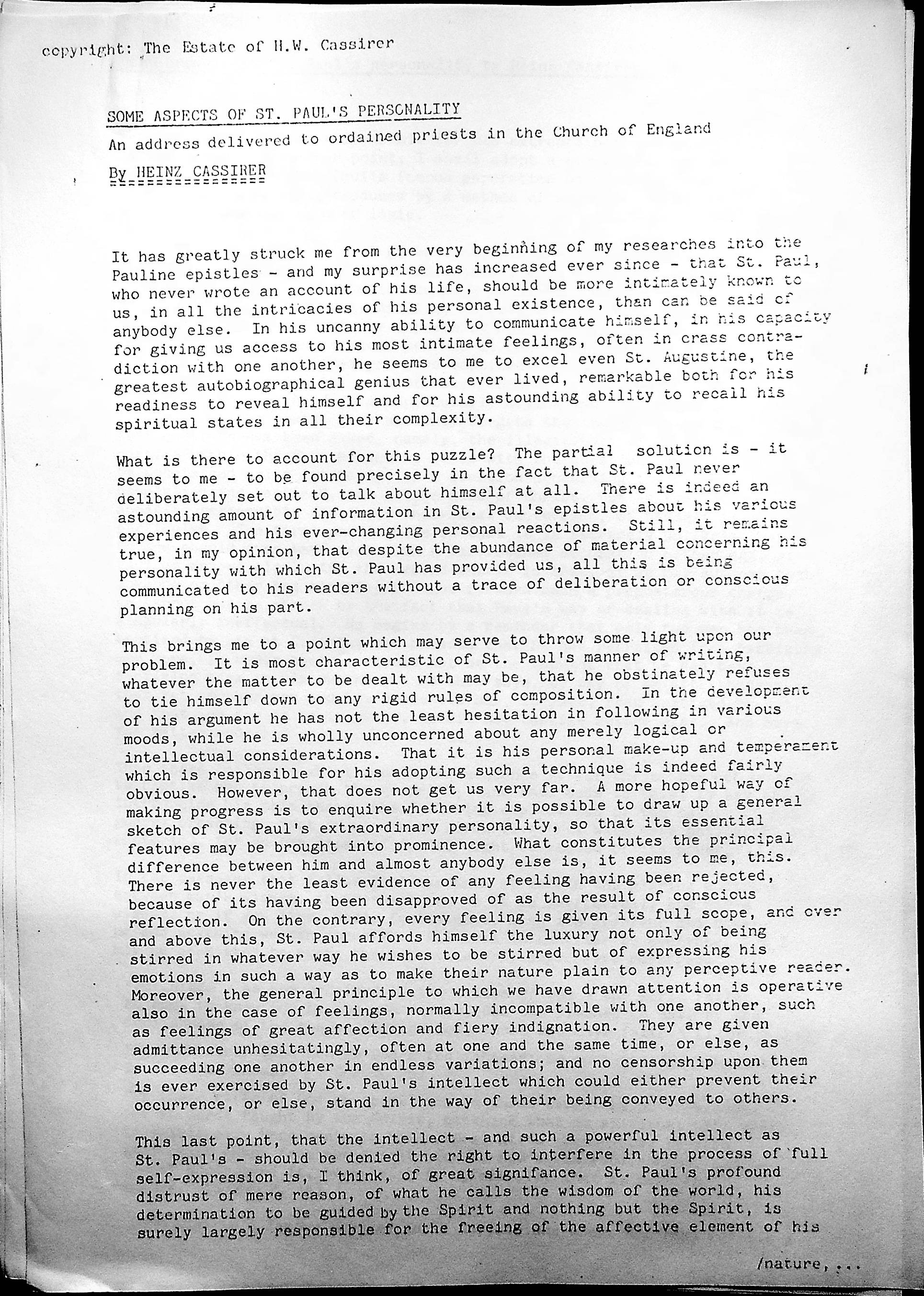 Black and white image of a photocopy made from a typescript of Cassirer's talk. H.W. Cassirer Archive, University of Sheffield, CASSIRER 029.
An address delivered to ordained priests in the church of england
The content of this talk parallels the discussion of Paul's character in Cassirer's Grace and Law, a work he first drafted ca. 1959. The introduction to that book indicates that he had first begun to engage with Paul's letters around 1952 ("in my fiftieth year"). He was baptised in 1955, and made a retreat with the Community of the Resurrection in Mirfield around that time. The suggested date ("ca. 1958") indicates that the talk may have been prepared and delivered before Grace and Law was completed. It is also possible that it postdates the book manuscript. The talk seems to have been the core medium through which Cassirer's ideas about Paul circulated during his lifetime—aside from word of mouth, and the many letters written on his behalf by his friend and amanuensis Ronald Weitzman.
Editions
Two versions of this work survive in the H.W. Cassirer archive. There are no substantive differences in the content. The layout suggests that Cassirer may have used a 14-page script to deliver the original talk (see CASSIRER 035, which lacks the final page; a photocopy of this version, including page 14 is bound into CASSIRER 055); this script was later compressed to 8 pages for circulation. The presence of multiple photocopies of the shorter form in the papers left by Weitzman support this theory (see image, left).
The digital edition published below (in HTML) was produced by scanning and running optical character recognition on the compressed version, and repairing errors with reference to the expanded one. (Use the scroll bar at the right to read the full text.)
An XML version is provided as part of The Digital Cassirer Collection: Editions.
Digital edition copyright (c) The H. W. Cassirer Archive, University of Sheffield, 2020. Created with the support of the estate of Ronald Weitzman. Intellectual copyright (c) the estate of Olive Cassirer.